Renew Your Membership
You are more than a Girl Scout.                       You are a G.I.R.L. 
Girl Scouts are adventure seekers, problem solvers, and optimistic about the future. We are Go-getters, Innovators, Risk-takers, and Leaders. Stay connected to your Girl Scout sisters this summer and get ready for season of the G.I.R.L. this fall. Renew your membership today, and you'll get some extra rewards!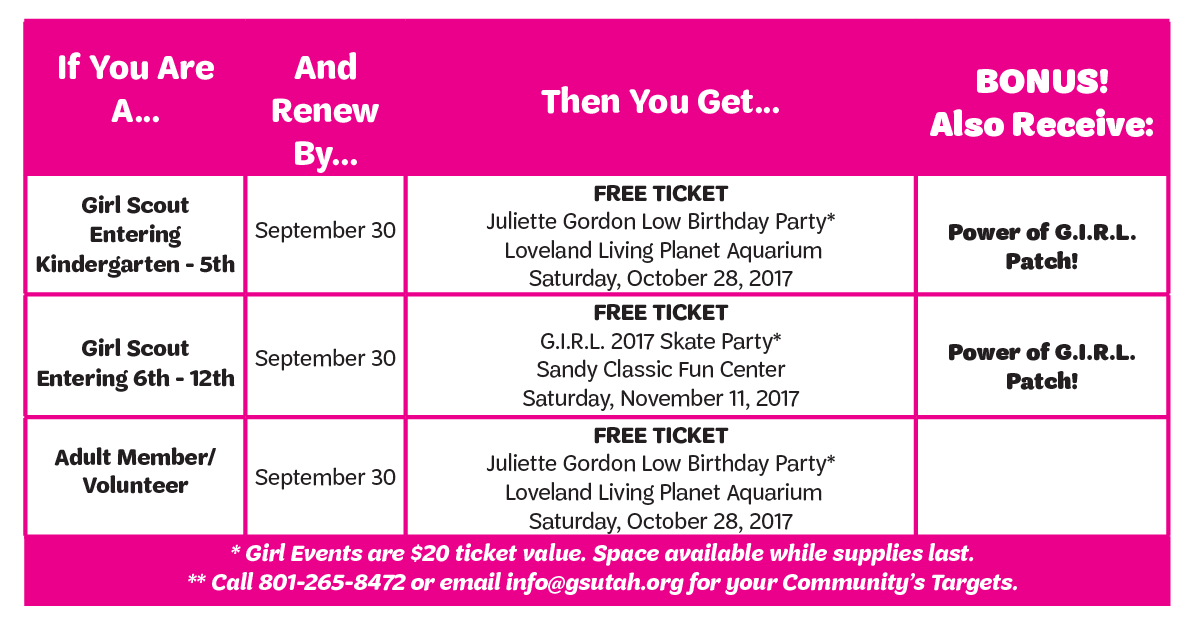 Girls! Renew by September 30th
Get the Power of G.I.R.L. Patch!



If you are a troop or community, click HERE to renew.
Have your "Username" ready  (Username = email used to join Girl Scouts)
Forgot your username? Please call 801-265-8472 or 800-678-7809



How to Renew:
1. Click the 'Renew Today' button above
2. Log In to MyGS
3. Select the 'Membership' tab
4. Change the box from 'Current Year' to 'NEXT YEAR'
5. Select members in your household to renew by choosing 'RENEW'
6. Check the box to reaffirm the Girl Scout Promise and Law
7. Submit payment information
8. Review and confirm renewals then submit
9. Watch for the Confirmation email
10. Find fun things to do this summer!