Emerging Leaders Program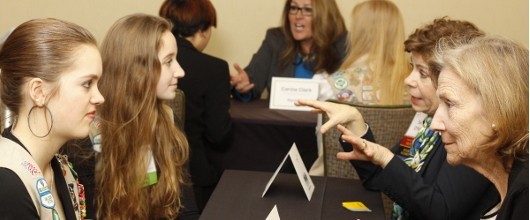 The Emerging Leaders Program is an exclusive leadership development series for girls in grades 9-12. Through the program, girls gain a strong sense of self through resume, application, interview, and networking sessions. They also learn how to build healthy relationships and positive values by engaging in communication skill building working with high level executive women; and will learn the benefits of seeking challenges and learning through failures.
The Emerging Leaders program is FREE to all girls who are accepted.  
How to Get Started!
Apply using the link below. The application is open until March 1 at 11:59 pm.
Submit a 60-90 second video answering the following questions and send the video to programs@gsutah.org:

What does leadership mean to you?
Why should you be considered for this program?

Submit a cover letter and resume with your video.
Commit to attending all 3 of the program components outlined below.

Emerging Leader Program Components
College and Career Readiness Conference
April 1, 9am-4:30pm in Salt Lake City.
Girls will engage in resume and application writing, interview skill building, networking skill building, and finding their own inner leadership type. All meals will be provided!
Stand Beside Her Luncheon
April 7, 8am-2pm in Salt Lake City.
Girls will take the skills learned during the conference and will be paired with women mentors (lawyers, doctors, CEOs, etc.) for a speed networking session.  Afterwards girls will be able to attend the full luncheon to continue practicing the skills they have learned. All meals will be provided!
Debrief Event with an overnight option
April 21 at 6pm - April 22 at 3pm. Salt Lake City.
OR
April 22, 9am-3pm. Salt Lake City.