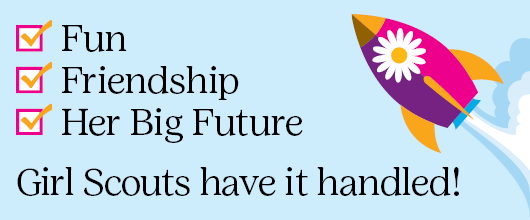 Daisy Launch
Start thinking about expanding her world outside of school! Think of the Girl Scouts Daisy program as your one-stop shop when it comes to building your kindergartener's or first grader's social skills, keeping her moving, and giving her an extra bit of stability in this ever-changing world. She'll build skills that will help her in and out of the classroom. Whether she's dreaming up a new toy, learning about bravery, or helping plant a garden, you can count on Girl Scouts to meet the moment, providing safe and fun activities while making your life a whole lot simpler.
What do Daisies do?  |  Why Girl Scouts?  |  Want to learn more?
 
Ready to get the fun started?
Sample Girl Scouts before you join! Girls and caregivers, you're invited to attend our upcoming events to learn more about Girl Scouts and participate in fun activities. The Daisy Launch series is for girls in kindergarten and first grade; for girls currently in pre-k, check out the resources for girls entering kindergarten.
Daisy Launch Series
Led by Girl Scouts of Utah staff members, the FREE Daisy Launch event series is an introductory Girl Scout troop that meets virtually so you can see what it's like to be in a troop before joining. While your daughter participates in activities, we'll answer all your burning questions about Girl Scouts.
Girls will learn about and be introduced to the Girl Scout promise and law as well as our outdoor program pillar, badge work, and STEM through various activities.
Choose Tuesdays OR Wednesdays at 6:30 p.m., whichever works best for your family! You can join at any time during a series. 
---
If you have any questions, don't hesitate to reach out at info@gsutah.org or call (801) 265-8472.