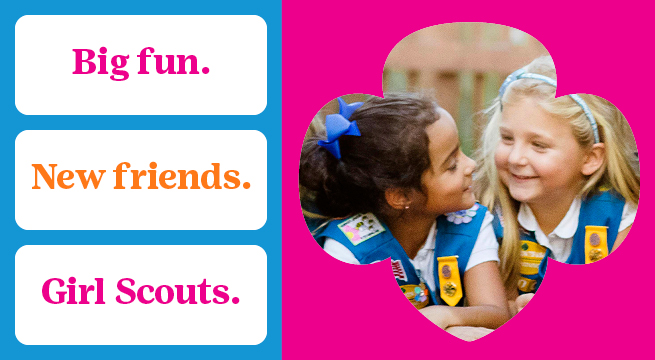 Discover Daisy Girl Scouts
The Girl Scouts Daisy program is your one-stop shop when it comes to building your kindergartener's or first grader's social skills, keeping her moving, and giving her an extra bit of stability in this ever-changing world. Whether she's dreaming up a new toy or helping plant a garden, you can count on Girl Scouts to provide safe and fun activities.
What do Daisies do?  (PDF, bilingual) |  Why Girl Scouts? (PDF) 
Want to learn more?
 
Discover Daisy Girl Scouts
Families are invited to learn about Girl Scouts at an upcoming Discover Daisy Girl Scouts event. Led by our staff members, these FREE events for kindergarten and first-grade girls allow you to see what it's like to be in a troop before joining. Your girl will participate in a fun activity while you learn about how Girl Scouts sets her up for success.
It's free to attend, and registration is not required. Find an event near you!
Date
Time
Location
City
February 15
5:30-6:30 p.m.
Magna Library Meeting Room
2675 S 8950 W
Magna
February 21
5:00-6:30 p.m.
Sandy Library
10100 Petunia Way
Sandy
February 27
6:00-7:30 p.m.
GSU Salt Lake City Office
445 E 4500 S, #125
Salt Lake City
March 1
5:30-6:30 p.m.
Butterfield Canyon Elementary
6860 Mary Leizan Ln
Herriman
March 8
5:30-6:30 p.m.
Butterfield Canyon Elementary
6860 Mary Leizan Ln
Herriman
Discover Daisy Girl Scouts is for girls in kindergarten and first grade; for girls currently in pre-k, check out the resources for girls entering kindergarten.

Girl Scout Daisies try lots of new things, but the thing they do best is have fun! Download the FREE Family Activity Booklet and start her journey today.
Family Activity Booklet - English

---
If you have any questions, don't hesitate to reach out at info@gsutah.org or call (801) 265-8472.