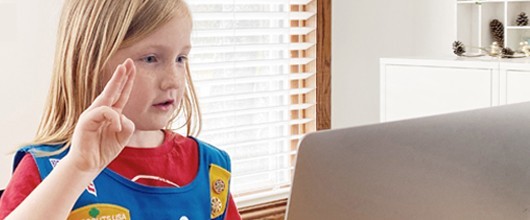 Returning to In-Person Troop Meetings and Activities Interim COVID-19 Guidance for Volunteer
This guidance is current as of June 1, 2020, a point at which a COVID-19 vaccine is not available. Your council may modify this guidance, from time to time as circumstances change.
COVID-19 is an extremely contagious virus that spreads easily in the community. Take all reasonable precautions to limit potential exposure for girls, volunteers, and families.
The COVID-19 pandemic continues to change as infection rates rise and fall in different areas. There may be regional differences or developments since this guidance was published. Continue to follow local and national directives. Discuss plans with families.   
© Copyright 2009–2021 Girl Scouts of the United States of America.  All rights reserved. All information and material contained in Girl Scouts' Volunteer Essentials guide ("Material") is provided by Girl Scouts of the United States of America (GSUSA) and is intended to be educational material solely to be used by Girl Scout volunteers and council staff. Reproduction, distribution, compiling, or creating derivative works of any portion of the Material or any use other than noncommercial uses as permitted by copyright law is prohibited, unless explicit, prior authorization by GSUSA in writing was granted. GSUSA reserves its exclusive right in its sole discretion to alter, limit, or discontinue the Material at any time without notice.