When her service unit struggled to fill the manager position and faced dissolution, Edith Gates stepped up three separate times: once in the 1970s, again in the 1990s, and a third time in the 2010s. Edith continues to serve the Mt. Olympus Service Unit, now in her tenth year at the helm. Throughout her 52 years of membership and 47 cumulative years of volunteer service, Edith has sought to be welcoming and collaborative.
Edith became involved in Girl Scouts when the older of her two daughters joined as a Brownie, the earliest level at the time. One of her daughters stayed in Girl Scouts through high school, while the other left in junior high. Before she knew it, Edith joined the Girl Scout Movement as a troop leader and she's never looked back.
Throughout the years, Edith also served as a day camp helper, troop cookie manager, service unit fund development representative, service unit awards and recognition representative, and member of the GSU Board of Directors. A highlight of her Girl Scout volunteer journey has been seeing numerous troop leaders, moms, and dads step up for their daughters in order to provide an enriching Girl Scout experience. But there's one project that spans decades and generations, and gives back to those who have given Edith so much joy: Activity Credits.
Many Utah Girl Scouts know and benefit from the Activity Credit program at GSU. For Edith, it's a highlight of her Girl Scouting experience, a testament to her Girl Scout legacy. In the 1970s, Edith worked with Char Corbit and the council's camping task group to encourage girls to attend GSU's resident camps with a new program. Activity Credits earned during the cookie program brought families into Girl Scouts by allowing girls to earn credits so they could go to camp. Edith describes it as a plus-plus for everybody; girls get a valuable leadership experience and go to camp, and the council reaches more girls as they learn valuable life skills as cookie entrepreneurs.
Since the creation of Activity Credits, the program has evolved in a big way. What once was designed to increase attendance at GSU camps now makes it possible for girls to participate in Girl Scouts, regardless of their ability to pay. Activity Credits are still used to help pay for camp, and now can be used to purchase items in the council shops and cover registration fees associated with GSU programs and other activities.
If someone is interested in joining Girl Scouts, Edith won't work to convince her. Instead, she extends an invitation, offering Girl Scouts as a way to meet her needs, and then, if she's interested, shares information and materials necessary to make it happen. That's been Edith's leadership philosophy: make people feel welcome and part of the group so they want to keep coming back. Edith works in a similar manner to accomplish team tasks within her service unit. She explains her need and asks if the person can help, giving them a choice. Operating in this way has ensured a positive experience, keeping her volunteers involved and willing to step up later when they are able to do so.
Growing up, Edith was a 4-H girl living and helping out on a farm in Wisconsin. She moved to Utah with her college professor husband in 1970 when he accepted a position at Westminster College. In the years before he retired and Edith's only break in volunteer service, they traveled around the country, landing in South Carolina, Illinois, Iowa, and Idaho. Edith has been an active volunteer in her church, sewing quilts and working with children in Head Start and nursery schools. If there was a need in the community that matched her interests, Edith jumped in. She also taught Home Economics, worked in food service and as a hospital dietician, and led sewing instruction in adult education classes.
With all the many hobbies, jobs, and activities in Edith's life, Girl Scouts stands out. She remarked at her experience being wonderful and unique. "I have felt the sisterhood of Girl Scouting," Edith said. "I've been feeling really happy that I've had the opportunity to work in the Girl Scout Movement."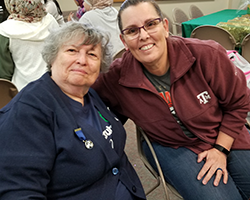 Edith (left) at Lynda Larsen's retirement party in 2018.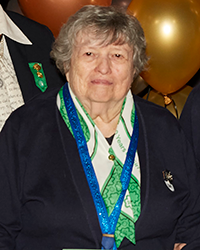 Edith received the Thanks Badge award at Recognition of Excellence 2017.