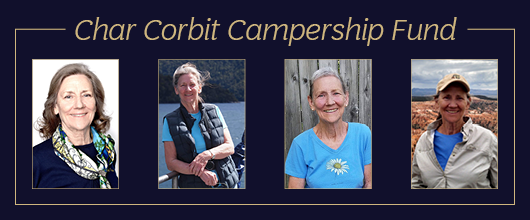 Your gift will change a girl's life!

To donate to the Char Corbit Campership Fund:
Visit our donation page and as you complete your donation information, click "This gift is in honor, memory, or support of someone" and complete the field with "Char Corbit Campership Fund." A donation of $400 allows a girl to attend a week at camp.

If you or someone you know has ever been the recipient of a camp scholarship, you know how much this will mean to a girl and her family.  

Give her the gift of the magic of Camp Cloud Rim where the mountain mist surrounds beautiful Lake Brimhall as girls row their canoes, play in nature, become artists, and laugh until dusk. 
Give her the delight of Trefoil Ranch where the girls learn about trust and make new friends; where horses and the ropes course give them confidence, and where the campfire forges a sisterhood for life in fun, friendship, and song. 

Thank you for your investment in Girl Scouts today - it is through your support that girls have the opportunity to go to Camp Cloud Rim and Trefoil Ranch.