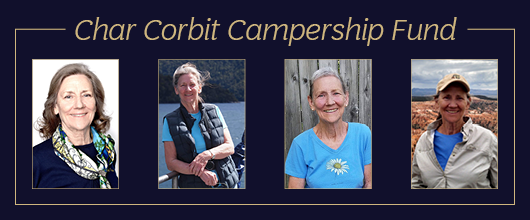 February 13, 2020

It is with an extremely heavy heart that we announce the passing of
Char Corbit, a member of the GSU family for over 65 years. Char had an enormous impact on our council, and was a dear friend to many staff, volunteers, and girls.  
Char Corbit began her story with Girl Scouts of Utah in the fifth grade, when she found a perfect way to embrace her love of the outdoors and her outgoing spirit. She was given the gift of a campership and was able to attend Trefoil Ranch, and her Girl Scout story continued throughout her life. 
Char was a Girl Scout troop leader before being hired by GSU in 1977. She served as director of outdoor programs, director of fund development, interim CEO, director of property, and oversaw the reconstruction of both GSU camps. She retired in 2010, after 33 years at Girl Scouts of Utah. 
In her time with GSU, Char watched three generations of Girl Scouts come through the GSU camps, and thousands of girls whose lives were changed through the Girl Scout programs. When asked about her retirement, Char said, "Working for Girl Scouts ceased to be a job for me about 20 years ago. It's a lifestyle."
"Char was an amazing person who touched so many people during her remarkable life," said Lisa Hardin-Reynolds, Girl Scouts of Utah CEO. "Char was my mentor, teacher, and friend, who taught me how to be a Girl Scout. I can honestly say my life has been changed because I was lucky enough to have Char in my life. She was instrumental in generations of girls' lives, and made such an incredible impact on everyone she met. Char truly embodied being a Girl Scout, as she believed in diversity and inclusion, led by example, and loved everyone unconditionally. She created lifelong connections and friends for life. Anyone lucky enough to know her shared her enthusiasm for life and Girl Scouts."
The family has asked that anyone who wishes to honor Char make a contribution to the Char Corbit Campership Fund, a program set up at Girl Scouts of Utah upon her retirement in 2010. Learn more about the fund below.

Your gift will change a girl's life!

To donate to the Char Corbit Campership Fund:
Visit our donation page and as you complete your donation information, click "This gift is in honor, memory, or support of someone" and complete the field with "Char Corbit Campership Fund."

If you or someone you know has ever been the recipient of a camp scholarship, you know how much this will mean to a girl and her family.  

Give her the gift of the magic of Camp Cloud Rim where the mountain mist surrounds beautiful Lake Brimhall as girls row their canoes, play in nature, become artists, and laugh until dusk. 
Give her the delight of Trefoil Ranch where the girls learn about trust and make new friends; where horses and the ropes course give them confidence, and where the campfire forges a sisterhood for life in fun, friendship, and song. 

Thank you for your investment in Girl Scouts today - it is through your support that girls have the opportunity to go to Camp Cloud Rim and Trefoil Ranch.