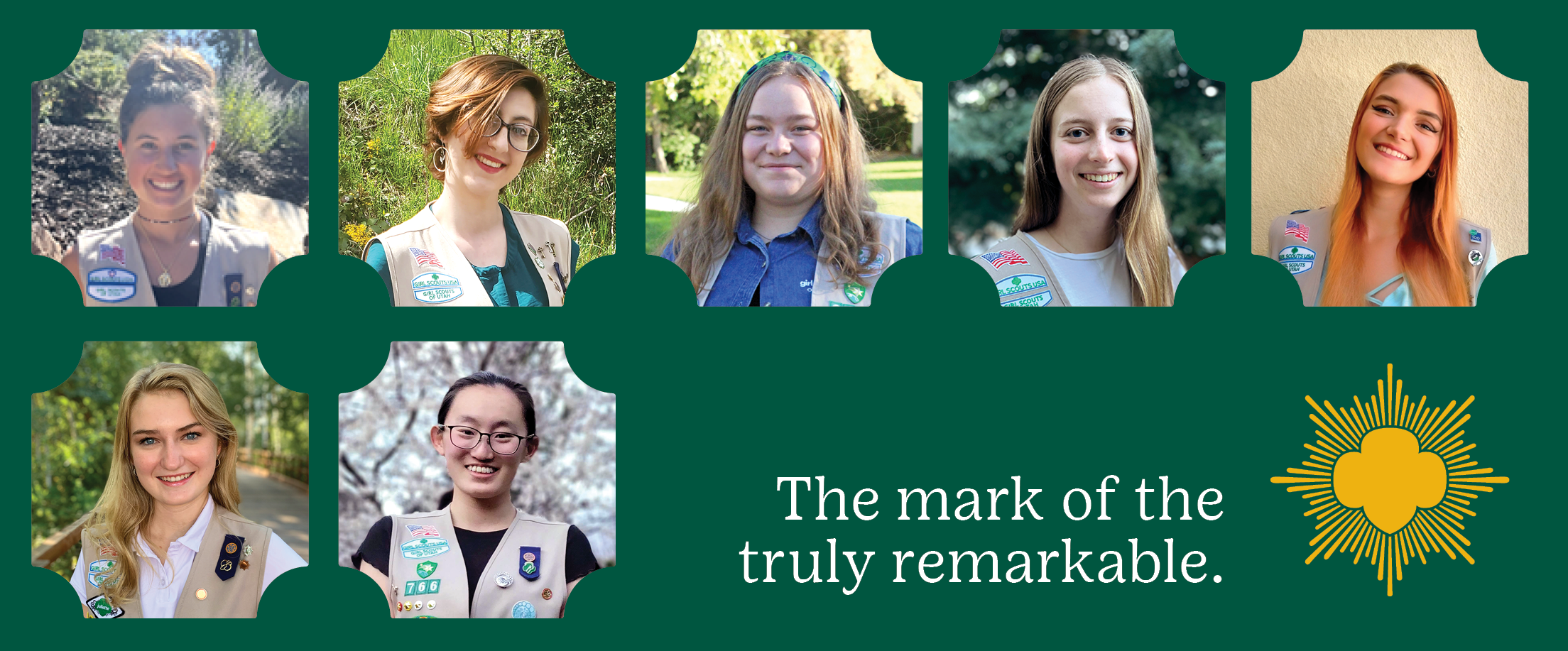 2019 Gold Award Girl Scouts
The Girl Scout Gold Award is the mark of the truly remarkable—proof that not only can she make a difference, but that she already has.
Seniors and Ambassadors who earn the Gold Award tackle issues that are dear to them and drive lasting change in their communities and beyond. Gold Award Girl Scouts don't just change the world for the better, they change it for good. 
Ruth created a hearing aid awareness project, inspired by her own experience with untreated hearing loss. She prepared presentations for staff at assisted living homes and now those presentations are shared with new staff during their training. She also made online videos to share with the public about untreated hearing loss, how to care for hearing aids, and how to help hearing aid users.

Amelia started an initiative to encourage low-income kids and families to eat healthy and balanced meals. She collected and distributed food to more than 70 families in Midvale and donated soccer equipment to the Boys & Girls Club of Midvale. She also made an online website with downloadable PDFs, a place for people to donate and get involved, and healthy recipes in English and Spanish.

Kaylan noticed that many students didn't know about basic kitchen safety, even though they might be expected to help cook for their families. She created a website with five extensive and adaptive lesson plans that help kids learn how to be safe in the kitchen. Each lesson includes a written lesson plan, video, in-class activity, review game, assessment, take-home activity, and recipe. 

Fatima created a documentary called "Reviving Heritage" to perserve culture, language, and heritage might have otherwise been lost. She was inspired by her grandmother who told her about her family's journey and the obstacles they had to face. Fatima realized she might be the only person in the world to hear this story and she wanted everyone to hear it, so she began creating the documentary.

Sophia started an annual test prep book drive to make sure all the students at her school had access to study material for their college readiness exams. Sophia noticed that students would often throw away test prep books after one year of use, even though they can last for a few years. She used this as an opportunity to eliminate unnecessary waste and provide more books for her library to help students in need.  

Bella is and avid reader so she decided to use literacy to help women and their children while they're in recovery facilities for substance abuse. She built two libraries and collected over 2,500 books for a Volunteers of America recovery facility for women and children. Her libraries are now a place where women can access resources about addiction and children can discover a passion for reading.

Samantha created a sensory cart, which is a portable version of a sensory room, for the National Ability Center. The space is designed to engage and refine the senses, an important part of child development. Sam painted a cart then outfitted it with the best sensory activities. She spoke to the National Ability Center's staff about the cart's maintenance requirements and provided them with user manuals.

Tara noticed that many girls' voices were not being heard on their STEM teams, which caused them to lose confidence. She decided to design and create Core Values boxes for STEM teams that are filled with activities that encourage teamwork. She met with STEM teams, distributed the boxes, led the students through activities, and listened to and encouraged the girls on the teams. 

Ashley felt compelled to call attention to emergency preparedness in her own community. She visited her local junior high school to speak to the students about natural disasters, being prepared for different types of emergencies, and creating and sustaining their own 72-hour kits. She also ran an emergency preparedness booth at her community's local Fourth of July celebration. 

Savannah was shocked by the number of traffic violations that are made against school buses, even when their lights are flashing and stops signs are extended. She set up a website with information and statistics about the issue and collected over 800 pledges from people at local events and meetings. She brought the issue to school transportation officials and members of the state government.